Since its reopening in 2014, Le Hameau has supported French creation and high end craftsmanship. Eager to follow through with this bias, The Hameau co creates, with the help of young talented designers, the decoration of a few of its rooms and suites. This years, Mapoésie partners with Le Hameau to decorate Le Patio, a deluxe room with a private terrace.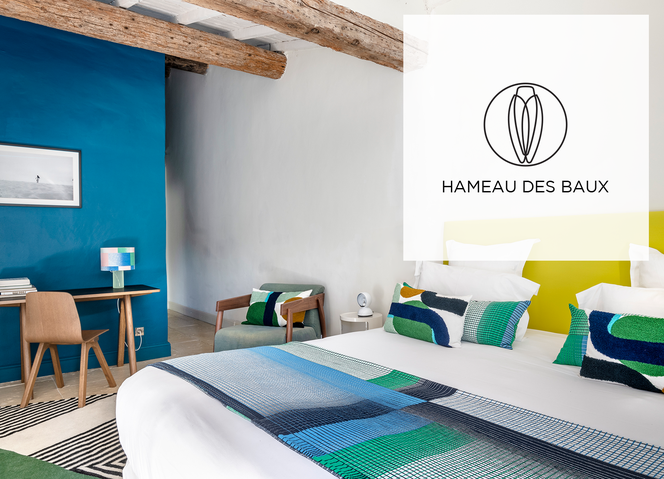 Designer Elsa Poux, through her brand Mapoésie, has adorned Le Patio room with her delicate touch. This vast ground level bedroom of 44 square meters opens up on a private terrace, protected from the burning Mediterranean sun by the bountiful shade of olive trees and oleanders. With its wood beamed ceilings, stone floors, white walls -with an occasional dash of color, Le Patio recreates indeed the spirit of a modern hacienda.
To highlight the room with her poetic touch, Elsa has thoroughly sensed the spirit of the Patio. Not unlike the Mapoésie collections, Le Hameau mixes all sorts of influences, either classics, vintage or radically contemporary, regarding decoration as well as pure artistic creation. A National School for Decorative Arts graduate, influenced by Bauhaus as well as Amazonia's lively colors, Elsa blends forms, colors and textures evocative of these influences, creating pieces which reflect today's lifestyles.
Le Patio features a few iconic elements of Mapoésie summer 2019 collection: the Echo theme, with cushions, throws/beach towels for two, the Amazone carpet and a table lamp edited by Colonel, enhanced with a Mapoésie lampshade design. Some of these items can be purchased at Le Comptoir, the Hameau's concept store, featuring a choice of foutas, tote bags and kimonos.