Le Hameau's new place is called The Mess… in French, "La Cantine". But not your average Cantine… This one has a bright and warm decor, with a pretty terrace to eat out in the shade and drink natural wines, brought to you by a nice and smiling waiter.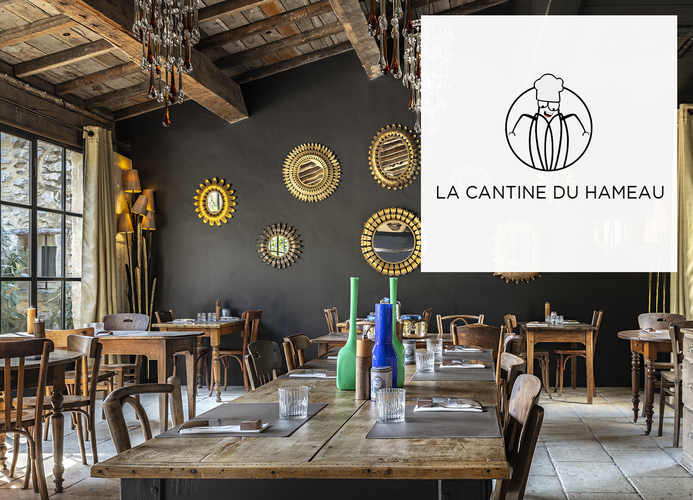 It is now possible to lunch everyday at le Hameau, either as a guest or a neighbor, in a friendly and easy way, with great food at a bargain price.
Chef Cristophe Chiavola signs a resourceful, honest bistrot-gourmet menu, with a short and effective list of propositions that will make everyone happy, either for the hearty or small appetite. On the chalkboard features a classic repertoire, but with a modern twist and zero tolerance for mediocrity.
Why not start with the Ardèche trout, served with algae, lime, coriander, fennel and wasabi, or the free-range egg, -because animal dignity matters, and so does taste- paired with pancetta, celery… and summer truffle, for egg gentrification's sake. As main courses features some beloved bistrot classics, such as farm-reared veal with fine orangey mashed potatoes, or braised Aubrac beef, blended with smoked cauliflower, sweet onion, haddock, and strong gravy. When it comes to fish, you may choose from slow steamed Atlantic pollock or red label Mediterranean meagre, paired with octopus, polenta, a short broth and chestnut oil. Inventive, isn't it?  As a final blow, how about a revisited chocolate mousse from local experts Valrhona, (transforming cocoa since 1922), or fresh strawberries with a light cream, or a Caribbean inspired dessert? For the cheese amateur, the creamy chèvre from Saint Remy de Provence is mandatory.
La Cantine welcomes you everyday for lunch, and even for dinner, for hotel guests only.