The Hameau has imagined tailor-made stays for all families: room decorated for kids, spacious and independent mazet for more privacy or XXL villa for large families.
Follow our concierge who has come up with crazy activities to keep kids and teens curious, creative, super-active, while Mom and Dad, for once, think about them, and just about them.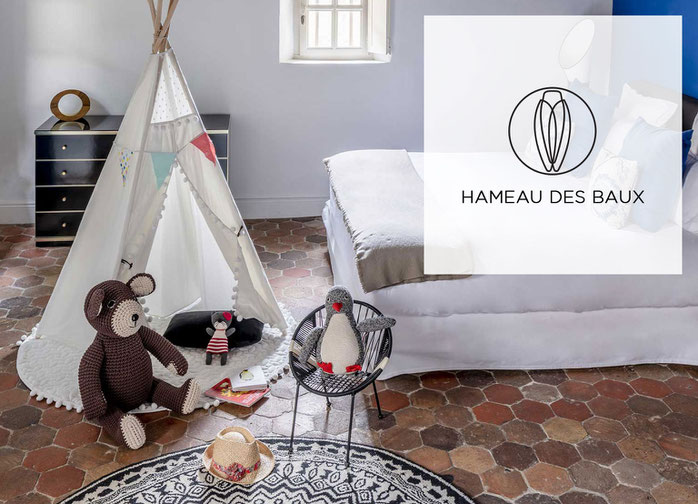 Many times, a family getaway means awful compromises for one part of the gang. Either the parents have to put up with kid's activities to the price of their sanity –hysterical screaming in a nightmarish decor and endless queues at the amusement park… or the kids have to get bored to death while following mom and dad at the museum –booooring- the restaurant –yuuucky – and no splashing in the swimming pool or the reading lady will be mad. But Le Hameau can and will make everyone happy. 
First and foremost, we'll give you space, in a provençal bungalow or a suite, that come with a fun kid's corner: a teepee fully equipped with cushions, toys, flashlight, books, while mom and dad can relax on their king size bed or private terrace. Take La Magnanerie, for instance. It is the ideal duplex for a family, with two beds in the mezzanine upstairs, and a spacious bathroom with both bathtub and shower. Other option: Le Mazet. This secluded provençal bungalow is perfect for a family with teenagers, with its two separate bedrooms. All suites at Le Hameau have at least one private terrace, for you to chill away from preying eyes.
In search of a bigger option? Our Mas, aka a beautiful traditional Provençal house can host extended family and friends with its 500 square meters dispatched on three levels, with six bedrooms –one is an adorable dormitory with 3 kid's beds- several living rooms, a beautiful kitchen open on the terrace (with open air BBQ) overlooking the Alpilles mountains… and even a movie theater (perfectly soundproof) and a heated pool. Breakfast and afternoon snacks can be served there. 
Having a non fussy lunch is easy at La Cantine du Hameau, our new bistrot that can accommodate kids and adults alike. The place is open for lunch and dinner 7 days a week, with a brunch on Sundays, where the children can pick they favorite bites, with no guilt attached: our chef, Christophe Chiavola, sources his products from responsible farmers, making delicious and fresh family meals with a gourmet twist.
Of course, eating is essential, but you also have to keep them busy. Our fairy-concierge (well, he's a guy-fairy, and also a great dad) has picked up a full range of fun stuff to do: graffiti with the Maquis'art crew, meet and greet with sharks at the Seaquarium of nearby Grau du Roi, a great dive into major art with full on special effects in the disused quarry of  "Carrières de Lumières", just a throw's stone away. Visits of local farms, birds observatories, and electric bikes renting are also fun options. For bigger children, how about some horseback riding in the Alpilles? Our partner Le Petit Roman will take you for a ride into the olive and almond groves secret paths. La Manade Laurent, located in Camargue's village of Salin de Giraud can also take you on a discovery ride amongst wild bulls and pink flamingos, in a very typical guardian-like (the local cowboys) fashion. 
And when the night falls, as the little darlings are happy and exhausted, Mom and Dad can enjoy the Hameau's super nanny to have dinner at Cicada, our one star restaurant. Indeed Jérémie, you are quite the perfect fairy!