New Cicada and Cantine du Hameau's chef is a passionate character with innovative approach to regional cooking. 
Christophe Chiavola continues the adventure led for five years by Stephan Paroche and carries high the gastronomic colors of the hotel. Alongside Cicada, an innovative and open table inspired by the world, he will also be in charge of the new bistronomic table of the place: the Cantine du Hameau.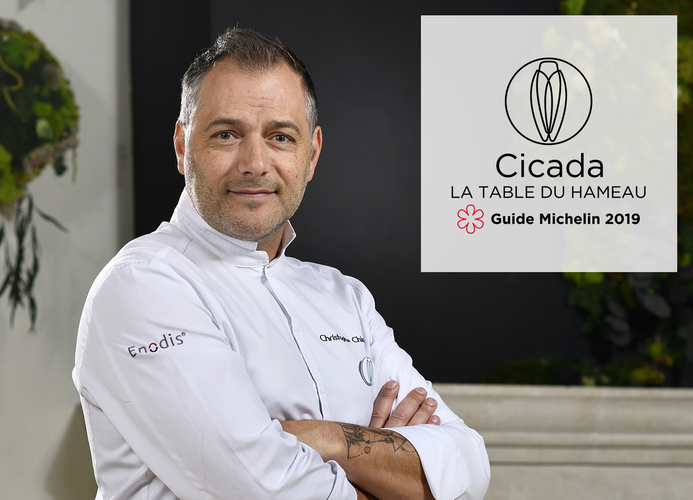 Don't be fooled by his Italian name. Christophe Chiavola might be of Sicilian descent, but he is passionate about Asia, the ground work of all his culinary investigations.
A perfect approach for Le Hameau des Baux avant-garde hospitality signature style. The 5 stars resort has opened a bistrot, dubbed « La Cantine », also curated by chef Chiavola, as well as the gourmet restaurant Cicada. "At la Cantine, I just want to give the best of everyday life cooking: top choice local ingredients providing a honest, comfort yet modern cooking. At Cicada, my goal is to surprise, to offer the finest gourmet eating, through research, and a unique, innovative approach, from cooking to table service. Everything has to be done with artistic flair." Of course, the Alpilles' terroir is higjlighted. "My kind of cooking is Mediterranean with an Asian twist. For Instance, I roast lamp and roll it into algae, like a maki." When it comes to fishes, specifically eels, pike-perch, and crayfishes, they are supplied by a small local producer in Camargue.  "The eel is lacquered in soy sauce, honey and Espelette chili pepper and then charcoal grilled. It will be served at the table into a little brasero".
This Perpignan native is practically self-taught, not unlike his mentor, Michel Bras, acclaimed Aveyron chef who never played by the rules. For both of them, product is king, and key. It is so essential that Chef Chiavola took his crew to the asparagus picking at Vert'Tiges in nearby Cabannes. An exceptional product that will get an exceptional treatment. "I work on subliming the product through the addition of one or two tastes, max. My mission, and the hardest part, is to keep it simple". 
The menu of Cicada by Christophe Chiavola is an invitation for new horizons, yet in harmony with its environment. The newly-awarded one star restaurant of the Hameau invites you to live the experience of a natural and inventive gastronomic meal, from Tuesday to Saturday for dinner.