On September 7, gather at Cicada, La table du Hameau to enjoy a one-of-a-kind gastronomy moment. For this fourth cook-off edition, Julien Diaz is our guest. The starred chef of Marseille's restaurant Saisons will deploy his art alongside Christophe Chiavola for a five-course menu.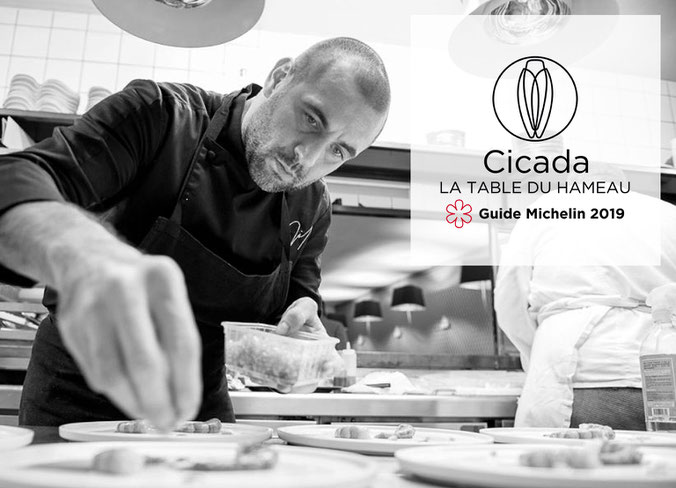 Julien Diaz is not a man of many words when it comes to brag about his brilliant career as a chef. Humble in his everyday life, he is ambitious when it comes to cooking. Born and raised in Marseille, Provence's major city, he showcases a Mediterranean cuisine d'auteur, which he has been perfecting during different stays in gourmet restaurants as well as his own, mainly while residing in Corsica. Now back in his hometown, and graced with one Michelin star, he is more than ever a gastronomy passionate. His style is instinctive, precise and contemporary, with a penchant for surf and turf associations. « I am passionate about the combination of sea urchin, coffee and medlar », he says.  
For this exceptional evening, the two chefs have elaborated a menu that highlights the originality and audacity of their cuisines. For starters, a crustacean: the Gambero rosso, paired with an immortelle ravioli, condiment pickles and wild fennel, followed by a veal tartare with smoky flavors and oyster. The roasted Saint Pierre will be awoken by a condiment of chorizo and bergamot, while the pigeon will be glazed with its own juice and paired with red berries and raviolis stuffed with pigeon legs confit. The final blow will be just as unconventional: bitter chocolate, celery stalk and prickly pear. Be there for a cooking venture on September 7 and discover our five-course menu (95€ excluding drinks).