It's yummy time again! The good ole French lorry from the fifties opens its steel counters on June 14th. Same place, same look, but the chef, and therefore, the menu, have changed, for the best.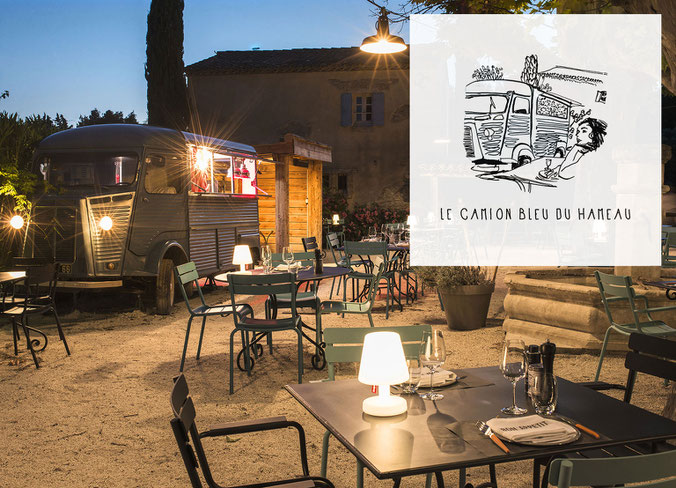 An iconic machine: Citroën Type H
With its vintage, old French movie looks, this iconic van recreates the festive ambiance of a summer Sunday on the village square. Open from mid june to September, it officially starts the season of out and about friendly get-togethers. A time to enjoy tasty and sunny delicious summer food, around the beautiful ancient fountain and under the welcoming shade of plane trees. 
A new menu for a new start
Chef Christophe Chiavola has elaborated a user-friendly, casual-gourmet menu, for any kind of mood. From the simple wooden plates of Iberic pork, to share with no fuss and a few glasses of wine, to more elaborate dishes, such as the slow cooked octopuss, sided with citruses, mesclun and chimichurri, there is something for everyone. It's an easy and tasty menu, with a choice of barbecue-roasted pieces, fresh and crunchy salads, with herbs coming right out of the Hameau's vegetable garden, and a nice fish selection, renewed daily. Vegetarians and vegans will be happy to eat generous servings of slowly roasted and well-seasoned vegetables. Wines are organic and easy to drink, perfect for a hot summer night. 
Live music on Fridays
On Fridays, this enchanting setting is enhanced with open air musical duos, with a pop and jazzy feeling. In July and August, harp and singer duo Hybride will play jazz standards as well as Radiohead, while guitar duo Les Petites Cuillères cover Django Reinhart or Adele. New Orleans saxophone player Leonard Blair will play along a singer, while jazz pianist Giom Reigner will also team with a female vocalist. 
The Harp
with Duo Hybride
The Guitar
with Les Petites Cuillères
The Sax
with Léonard Blair
The Piano
with Giuom Reigner
The Guitar
with Les Petites Cuillères
The Piano
with Giuom Reigner
The Sax
with Léonard Blair
The Harp
with Duo Hybride
Le Camion Bleu du Hameau welcomes you all summer, from Friday to Tuesday evenings, 19H30-22H.