A bold and sensitive perspective in an unusual art place…
In residency at Hameau in 2017, three young photographers graduated from the National School of Photography in Arles, Lucie Desgigot, Margot Laurens and Adrien Pezennec are showcasing their work from October 3rd 2018 to January 2nd 2019.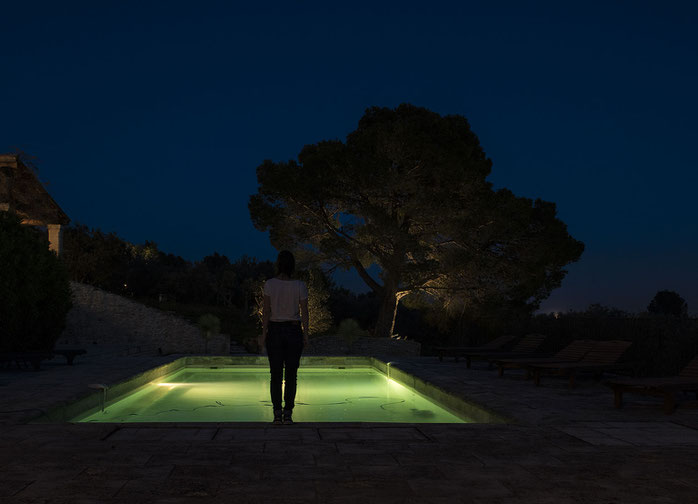 For three weeks, Hameau des Baux has been the fertile ground of their inspiration. No instruction was given to the young graduates from NSPH in Arles : only total freedom ! The only commitment : to produce art pieces within the hotel property. The result is astonishing : their work differ one from the other by their approach, their technique and treatment, revealing a diversity of views. The pictures are then showcased the following year at Hameau and a residency diary is published. Offering a real opportunity to support young creation, Hameau takes part in the development or the artists-photographers trained by NSPH.
Lucie Desgigot "Fictions"
"In my photographic practice, I usually take a interest in my surroundings and the places I walk through. A territory mixing urbanity and precarious nature, intimate and public space, long-term established over strolling and wandering. Taking photographs at Hameau was therefore leading me to uncharted territories : a defined space, a limited time. I chose to create stagings with items and materials I could find in the hotel and gardens. I tried to build a new space by mixing colours and textures and conjuring strange or unexpected moments up. I hope this set of small fictions will surprise you as much as they surprised me doing them."
Margot Laurens "Entre deux"
"In keeping with an exclusive practice of silver photography in black and white, I intented to begin my discovery and my experience of Hameau des Baux as I usually do, wandering with my Rolleiflex, to offer a detailed portrait of the place. But while roaming Hameau, it occurred to me that I had to treat it like a real decor in which I could choose to suggest stories in a different format, like Hithcock movies, where aestheticism, suspense and poetry take place between chiaroscuro and nightfall. Suspense through the potential stories suggested by the pictures but also as the time seems to be suspended and contemplative. I'm also looking for setting  space and time like in movies but they are trapped by the process of photographic shooting. Over the colour images come elements in black and white, familiar, intimate and timeless. But they only happen in a second step, like on the fringe of the shooting of this imaginary movie, implying the decor, between anticipation and absence, like a transition between two episodes of my photographic work."
Adrien Pezennec "La robe verte"
"I'm used to work solely on places full of History. This work sometimes implies several years of research. The result is pictures and texts that try to engage a dialogue between current events and the most tragic ones in the past century. Colour is forbidden, as well as artificial light and the staging is nonexistent. The residency at Hameau des Baux gave me the opportunity to produce the exact  opposite of what I usually try to do. It was a leap in the unknown. The time and space constraints allowed me to escape. There, it was only devices, costumes, stagings, bright and coloured spotlights. Ideas born from movies and spontaneous inventions led me to create characters with absurd behaviours. I've tried to leave Provence these few weeks, to conceive a scenario and to run from the unique light of the Alpilles."