Cicada's summer menu is here! Chef Paroche has revisited a few signature dishes and summer classics with a fresh gastro twist. Last but not least he also has recreated one his childhood favorites, curated by his beloved grandmother.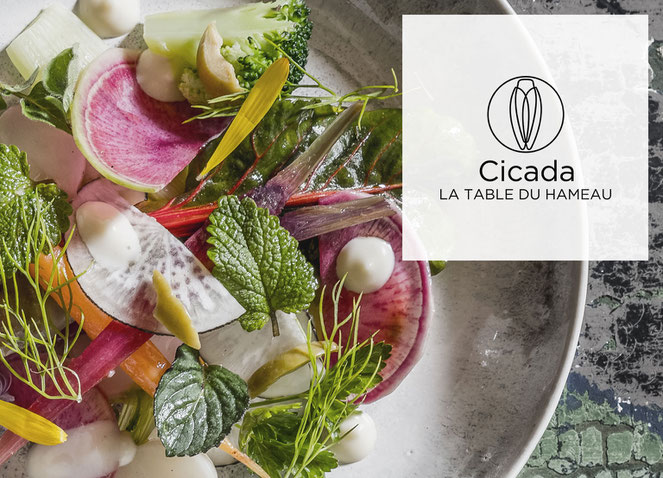 "I do not like things that are set in stone. I like a recipe to evolve according to seasons." Cicada's aficionados will meet again a few of the Stephan Paroche's signatures bests: Fresh handpicked summer vegetables served with a gourmet aioli, sweetbread served in three courses, and for desert, the wonderful trio strawberry-rhubarb-tarragon, a perfect refreshing conclusion to a summer meal.
"I chose to serve the sweetbreads in three different courses so that everyone can share and do their seasoning as they please" The first plate serves the sweetbreads with mashed cauliflower and hazelnut butter with bit of chive, the next is a hot and cold cauliflower salad with lime and caviar lemon, the last is a Thau's bay mussel tartar.
For the caprese-addicted, chef Paroche has created an adventurous gourmet version of this summer classic, called Collectible Tomatoes: "it is a selection of vintage and forgotten tomatoes cooked in different ways, served with a Burrata sorbet and a thin veil of Campari jelly, plus a cold broth made out of zebra tomatoes and cucumber juice, poured at the last moment"
But Chef Paroche"s favorite is a starter that was inspired by his Italian grandmother's cooking. "It's a potato gratin that she called « Bombine », seasoned with rustic bacon and laurel" The chef's gourmet version includes red mullet, also dubbed "sea woodcock", because of its strong taste, thin layers of potatoes and all-spice flavored Lardo di Colonnata. A meat gravy tops the dish. "I think my grandmother would like that" says a humble Chef Paroche.
Cicada and its beautiful terrace overlooking the Alpilles welcomes you every summer evenings.