An exceptional culinary event will take place on June 30 at Cicada, the gourmet restaurant of Le Hameau des Baux : Michelin starred chef Sebastien Sanjou, of Provence's renown table Le Relais des Moines will cook along chef Stephan Paroche. Prepare for a fabulous feast.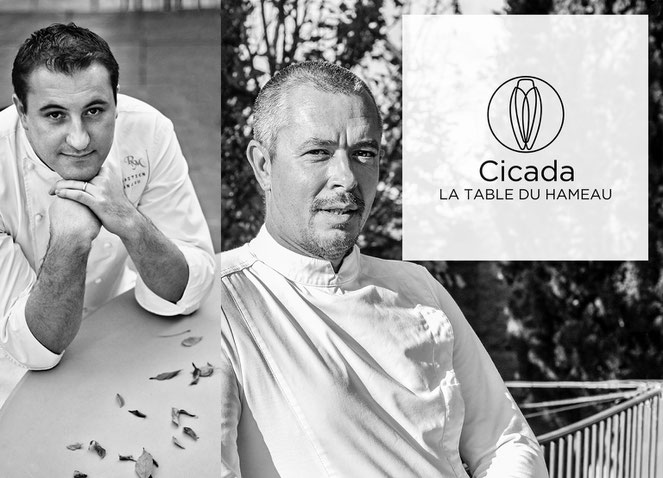 When Chef Paroche asked his longtime friend Sebastien Sanjou, of close to Saint-Tropez famous restaurant Le Relais des Moines to cook with him, he did not hesitated for a second. "We met in Paris a few years ago. We clicked immediately" says chef Sanjou. "Stephan has created a world of his own, with a twist of fantasy in his cooking. He dares to pair unexpected flavors, for a complex, delicious result. That's why I accepted to come to Le Hameau : when you cook with someone of maturity and talent, you move forward, you share, it's rewarding. It's going to be a highly enjoyable sharing experience".
The two chefs have a lot in common, starting with their similar learning path, which originated for both in the family's restaurant, where they got hooked on gourmet cuisine. "I always loved to observe my father cooking" says chef Paroche. "He taught me the fundamentals, the technique, how to make a fantastic gravy, which is the ultimate delicacy to me" Chef Sanjou also learned the basics at his father's restaurant, in the central part of the Pyrénées mountains, a region called Bigorre, in reference of the area's highest peak. "I am nobody's disciple", he says, "and that is an advantage. I found my identity pretty quickly, with nobody's help but the Mediterranean land". Terroir is indeed both chefs' passion and perpetual source of inspiration. "It is essential for me to work with local people who dedicate themselves to creating the best products, with identity and great quality. Without those men and women, everything becomes the same standard uninteresting stuff". As chef Paroche says: "A good product is already a good meal"
A high-end gourmet evening is to be expected. "Surf and turf Provence will be on the menu, with a contemporary twist. We do surprise the guests, but we appeal without creating confusion. You have to keep the taste of the product, work with baking and textures pairings, which is what leads to create a cuisine with personality. Nevertheless, you have to respect the product, it is absolutely essential." Explains chef Sanjou. Treat yourself with friendly cuisine on June 30 at Cicada, Table du Hameau.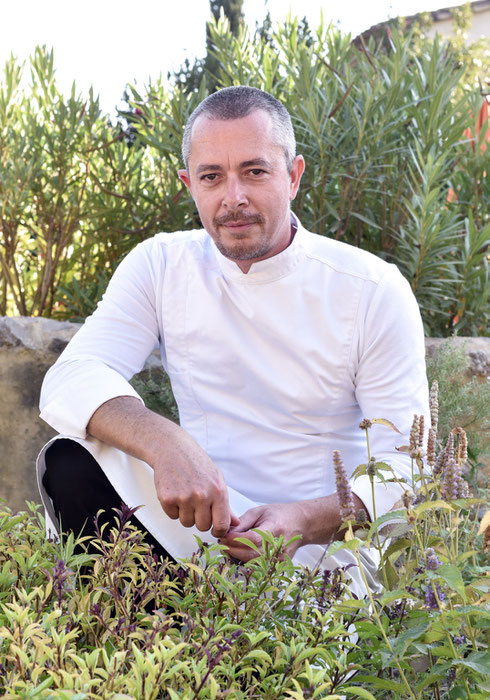 About Stephan Paroche
Chef Paroche is a self-taught gourmet cook who found very early his true calling in the family's restaurant. After studying criminology, he chose gastronomy, with his father's support. He won several prestigious awards and became the chef of his own Provençal place, La Magnanerie. In 2016, he approached the Hameau des Baux, seduced by the hotel's philosophy and personality. "It is a place that gives free rein to artistic expression, in constant renewal, where nothing is set in stone. It is also my way of apprehending cooking: working with seasonal products, highlighted in different ways. Rather than signature dishes, I have favorite products, cooked according to the inspiration of the moment." A fervent admirer of Pierre Gagnaire and a surf and turf aficionado, Stephan is a dedicated advocate of local terroir, which he highlights through a modern and stimulating cuisine, showcased with passion at Cicada, Table du Hameau.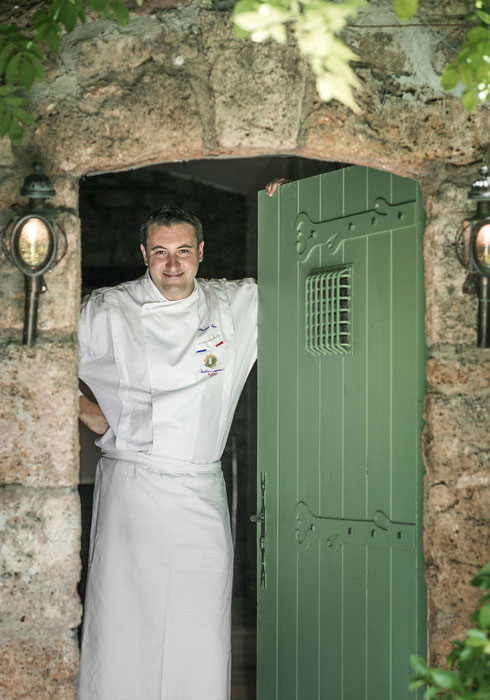 About Sébastien Sanjou
Sébastien Sanjou was born in Béarn, close to the Basque Country, grew up in Bigorre, Pyrénées, and is now a sheer Provençal. The last of five generations of cooks, he was an apprentice at his father's restaurant and then at catering college in Biarritz. But it is on his own, as the sole captain of his restaurant, that he mastered his own art, which quickly led to his first Michelin star. He is a great admirer of the most atypical personalities of French cuisine, such as Jacques Maximin, and triple Michelin starred chefs like Gilles Goujon, Christophe Bacquié, Arnaud Donckele, and uber-chef-entrepreneur Alain Ducasse. A honest and faithful man, Sébastien Sanjou stands for an authentic local cuisine, with a strong identity. Since 2002 he commands the Relais des Moines, a XVIth century majestic building, nested in the heart of an oak and pine trees park, overlooking the medieval village of Arcs sur Argent and the Maures mountains.
Treat yourself with friendly cuisine on June 30 at Cicada, Table du Hameau.
Tasting menu in 6 courses (89,00 € excluding drinks):
Open raviole
Celery, artichoke, summer truffle
By Stephan Paroche and Sébastien Sanjou
Local and Hameau's vegetables
Smoked yolk, radishes leaves, bruised green olives, aïoli
By Stephan Paroche
Seashells & caviar
Cooked, raw, and iodized granita
By Sébastien Sanjou
Red mullet
Auda zucchini varieties, apricot-saffron condiment, meat juice
By Sébastien Sanjou
Calf sweetbread by Vincent
Calf sweetbread, cauliflower, brown butter, mussels/parsley
By Stephan Paroche
Raspberry and bell pepper
Hot pepper, dark chocolate, quinoa
By Kevin our pastry chef