First hotel member of the "Alpilles Regional Park" charter, which promotes a sustainable development policy in its region, the Hameau des Baux is acting every day to reduce its impact on the environment.
Here are listed its five essential topics.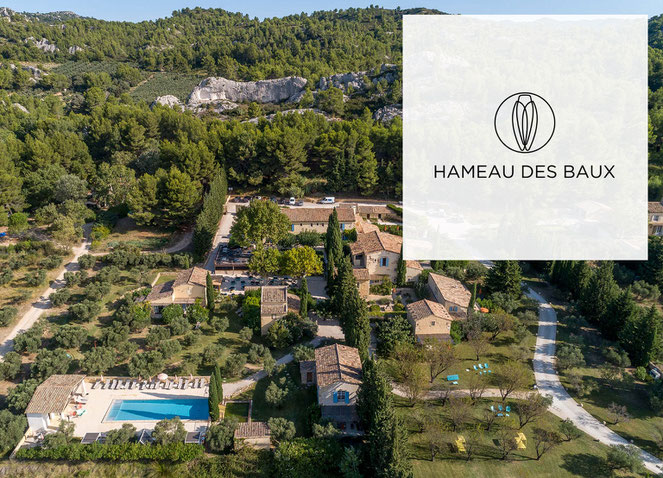 🍀 In the bathrooms, small size plastic amenities have been replaced by bigger size glass bottles on refill. These amenities are made locally and as organically as possible, by two firms located just a few kilometers away from the hotel: Une Olive en Provence and Végétalement Provence. They are available for purchase at the concept store Comptoir du Hameau.
🍀 Bed linens are changed only every other day, or every three days, unless guests specifically ask for it.
🍀 Towels are to be reused, guests leave on the floor or bathtub the ones to be replaced.
🍀 Household products are certified by European label Ecocert, which guaranties they are ecologic from production to recycling.  Detergent free floors cleaning, operated with steam cleaner. 
🍀 All wastes are recycled, the hotel deals directly with recycling center of Maussane les Alpilles.
🍀 Creation of a chicken coop, to be partly fed by the restaurant's vegetal leftovers. Eggs produced to be used in the Hameau's kitchen.
🍀 Composting of plants and vegetal waste from the garden, used as fertilizer.
🍀  Garden watering through gravity method, though the Durance river canals. No draining of the village's drinking water network.
🍀  Fives hives to be installed, targeting future production of Hameau's organic honey.
🍀 Installation of useful insect hotels (ladybugs and lacewings) for the natural maintenance of Le Hameau's park.
🍀  No use of chemical fertilizers in the garden, no chemical insecticides, all are made from black soap and plants by Jérémie, Le Hameau's gardener.
🍀  Flowered lawns to help the establishment of insects and honey production.
🍀  Growing and harvesting of olives on the estate's 5 hectares, pressing olives by the mill of Saint Jean in nearby Fontvieille, mill and olive grower since 1789.🍀 Exclusive production for the Hameau des Baux of extra virgin oil AOP Vallée des Baux de Provence, currently under organic certification process.
🍀 Plantation of a varied vegetable garden, but also of red fruits and a garden of aromatic herbs intended to partly provide restaurant Cicada, la Table du Hameau.
🍀 The suppliers of Cicada, la Table du Hameau, are mostly organic and located on a short circuit (20 km around the hotel).
🍀 The Hameau's cellar is 90% organic or biodynamic and 80% comes from the Vallée des Baux. Most of these winemakers benefit from the Demeter label, certification of biodynamic agriculture. The AOP Baux de Provence is the first certified origin of production to be 100% organic in France.
🍀As the first member of the Alpilles Regional Natural Park Charter, the Hameau is committed to the sustainable development of the Alpilles' territory, by employing a local workforce, working with local actors and participating in events in the region, proposing thematic walks highlighting the natural beauty.