In the avant-garde spirit that le Hameau holds dear, the hotel is decorated since its opening with carefully selected furniture. Design aficionados will immediately identify a few big names. One of them is new in furniture edition and a Hameau's favorite: Monolithe Edition, and its partner-in-antique, Monolithe Vintage. Le Hameau is keen to support French creation at its finest.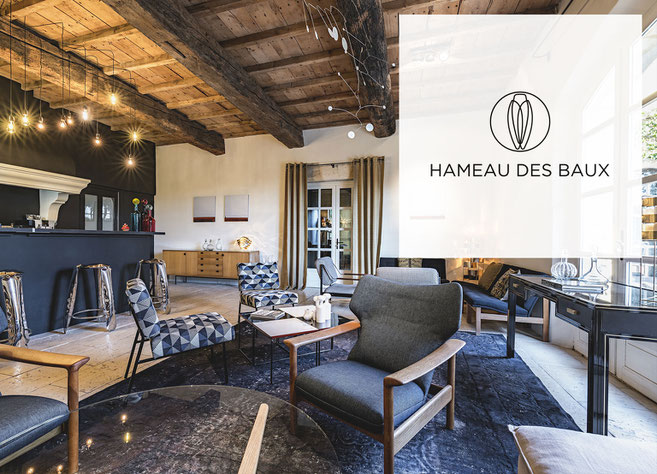 Le Hameau and Monolithe édition : true love
Showcasing the finest young French talents, Monolithe édition proposes a range of essential pieces for home décor, in a minimal and timeless spirit. The Klec bookcase by Piergil Fourquié, whose shape is reminiscent of an open birdcage, can be seen as soon as entering the lobby, along with its marble book ends, Charles and Elie, available either in white marble or white-veined black. Already a classic, evocative of secular Parisian brasseries, the L88 lamp by Julie Pfligersdorffer can be seen on tables. The Indoor-outdoor coffee tables Hansel and Gretel, designer by Pierre Dubourg, are displayed around the swimming pool, terraces, and some rooms. They are easily identified thanks to their massive base of marble or slate, a nice contrast with their aerial platter, either in metal or oak. Monolithe's latest creation, the Eora chair, by Guillaume Delvigne, will be seating the guests at the Cicada gourmet restaurant. Strong, generous, and comfortable, the solid ash tree structure is meant to be seen. The chair comes in a variety of colors and fabrics, made by honorable Danish house Gabriel, providing since 1851 high performance fabrics all over Europe. The Patterns selected by the designer and publisher are solid-like, in order to let design take center stage. A wonderful and comfortable way to enjoy chef Paroche's modern cooking. All these designer pieces can be bought on site, to enjoy at home.
Monolithe vintage: a passion for mid-century design.
Antique expert and soul of Monolithe vintage, Emmanuelle Vidal brings an « absolutely modernist » touch to the Hameau –to quote French poet Rimbaud, "Il faut être absolument moderne" (One must be absolutely modern). An authority for 1950's to 70's design, Emmanuelle has once again curated 12 rooms and the hotel bar, always making sure that the furniture and traditional architecture work hand in hand. Cherrywood and rosewood make a perfect match with natural stones, the slick lines imagined by modernists masters make an artistic counterpoint with Provence's cerulean skies. Amongst her bold choices feature a few prestigious names and rare pieces: a set of black armchairs by Ole Gjerlov-Knudsen & Torben Lind for France & Son from 1960, a set of coffee tables by Pierre Guariche from 1950 in laminated black and white, to be used either as sofa ends, bed tables or lounge tables, recreating a chess pattern. Another must have for living rooms is the dresser. This one is in cherrywood and signed by Alain Richard, from 1954. Only a few examples of the exclusive selection by Emmanuelle Vidal, all available for purchase.
Calade, the « Maison Baluchon » signature room.
Dedicated to supporting French creation, le Hameau has given free reign to Maison Baluchon for a total makeover of the Calade room. This distinguished leather goods house (clutches and bags are sold at the Comptoir du Hameau !) based in Chaumont, Champagne region, has developed a range of fabrics and wallpapers, all locally produced. The suite is decorated in peacock blue with a mix of floral panels, stylized to reach geometrical abstraction. This intense blue, featuring a dash of green, pairs wonderfully with the blush pink of the flamingo pattern also designed by Baluchon. A French touch' suite with a vintage feel, mixing tradition and modernity, in true Hameau's fashion.