Glazed, candied, as a vegetable or flowered, … Few ingredients are as versatile as the chestnut. The castanha, as it is called in the ancient provençal language, will be at the center of attention at la Table du Hameau from December 15 through December 17. Stephan Paroche, the chef, took at heart to reveal its subtleties.
The year is coming to an end and Provence is celebrating a seasonal treat : the chestnut. The restaurant La Table du Hameau has its own take on the matter.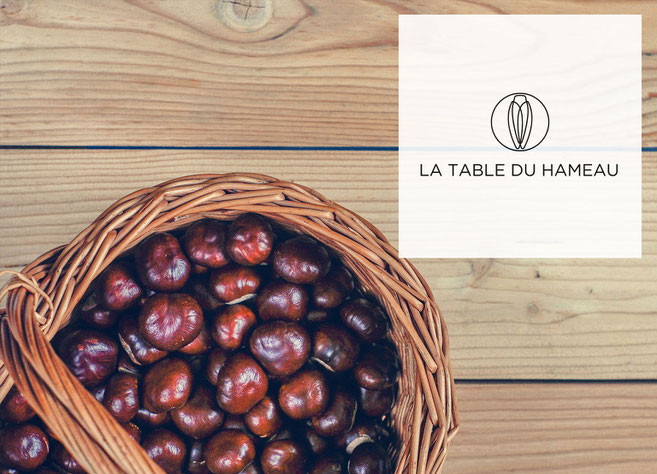 « It is a typical christmas treat, both rustic and elegant, which is a rare association. » As usual, Stephan Paroche made sure to elaborate his menu respectfully of the terroir and seasons, working with only the very best. « We have decided to pair the dishes with the natural wines of Domaine Milan, our neighbor from Saint Remy de Provence. These are very typical wines, with a strong autumn flavor. » Mr Milan has been producing natural wines since 1986, with passion and radicalism, refusing the addition of sulphites in his wine, even if this means he has to throw away the production. To prove his point, and give some advice to the curious ones, he will be attending dinner at La Table on Friday evening. The meal will start with a Corsican classic as a mise en bouche, the « socca », a crèpe normally made with chickpea flower, here replaced by chestnut flower. « It will be served with a lemony custard and haddock »
For starters, the chef has created a bold association between coffee and chestnut, while the main course is pairing venison and chestnut powder. For dessert, the chef chose The Mont Blanc, a French classic now very trendy again in most high-end eateries. The traditional recipe is a meringue covered with whipped cream, itself covered with chestnut cream vermicelli. Chef Paroche has his own lighter version, which comes with a surprise. 
To discover what it is, make sure to show up at the Hameau this weekend.