This is the tale of a self-taught man, who found his path and passion since his early childhood, in the family's restaurant. This happy man is now the chef of La Table du Hameau.
"As far as I can remember, I always loved watching my father work. He taught me the basics, technique, the art of gravy, which is a key element of taste. It's a skill that requires patience, passion, science, days of work and perseverance, to achieve the quintessence of flavors and a perfect seasoning."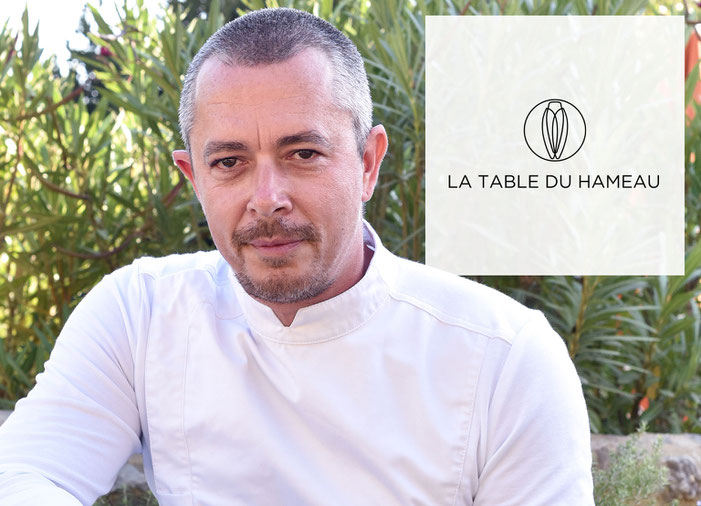 Some of us are lucky enough to find their voice since childhood. Stephan Paroche is even luckier : he found his passion at home, watching his father work in his own restaurant. His father soon became his mentor and professor, as Stephan never attended the usual schools of cuisine. After winning different awards and managing his own restaurant, La Magnannerie, this self-taught cook approached the Hameau des Baux, seduced by the hotel's philosophy of hospitality and its strong identity. "It is a place that gives free rein to artistic expression, in constant renewal, where nothing is fixed. It is also my way of apprehending cooking : working with seasonal products, highlighted in different ways according to the inspiration of the moment. Rather than signature dishes, I have favorite products, which I can change the way they are cooked and served. I like a recipe that is not carved in stone."
Unsurprisingly, this fine artist of flavors is a fervent admirer of Pierre Gagnaire, among others. "He is a genius, a Salvador Dali of cuisine, a nice madman of creation, an innovator". Like his prestigious mentor, Stephan Paroche puts the product at the center of his work, in a very down to earth way : he is looking forward to harvesting olives on the five hectares of the estate with his colleagues, and likes to pick himself herbs from the Hameau vegetable garden but also wild ones, for his cooking. And of course, he works with local productions as much as he can. "I love meeting farmers, see the raw product, freshly picked or in its natural habitat. A good product does half of your work, and discussing with passionate people is always inspiring."
He is also a surf and turf enthusiast. "Autumn is the season when we get truly glorious langoustines that I like to associate with pigeon, another seasonal product, or sweetbreads. Iodine and sea flavors form a beautiful seasoning for these very earthy products and give them elegance. It also works very well with pork's head accompanied by a pan-fried squid or a calf's head with a cockles' salad."
Well, autumn at the Hameau should be rich in culinary emotions.