In the spring of 2019, Hameau des Baux is offering you a new way to take a break with a yoga retreat and and exceptional hike created by Les Merveilles, a yoga retreat platform. Sibylle Grandchamp, founder, is giving a foretaste of this idyllic stay. The purpose : to disconnect from everyday-life to better reconnect with its deepest self. The best resourcing way.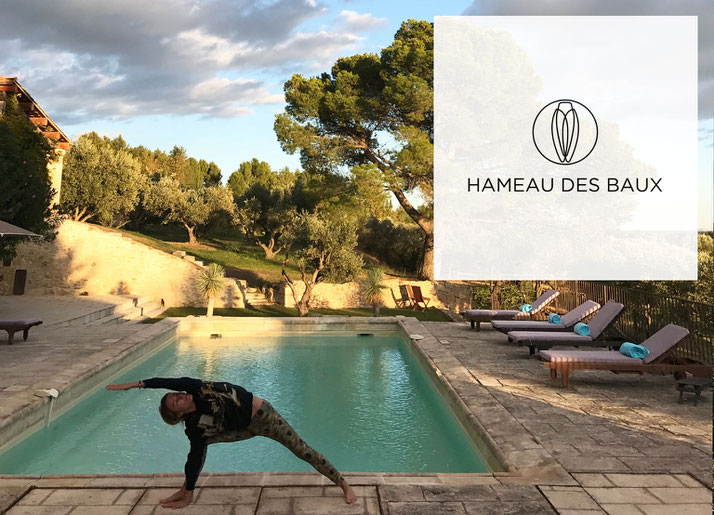 What do « Les Merveilles » offer ?
The project of Les Merveilles yoga and meditation retreats is all about sharing a sensitive experience of a tour in carefully chosen places for a global well-being program. The site has a paramount importance, as paramount as the people entering these places to set up these unique experiences. My goal is to allow each one to live a memorable moment, to be the main actor of its own journey… The theme of the « active and conscious » journey has always been a part of my thinking. I was first trained to tourism before becoming a journalist for famous fashion magazines (Numéro, Vogue, Vanity Fair). In the reportings, I try to immerse myself in a place to better capture and understand a culture. For me, a yoga retreat must allow to fully « live » the present moment, to have time for oneself without being disturbed, and to be able to wonder to « blend art and life ».
Who is a yoga retreat for ?
Everyone ! The way to sign up to a retreat is always the same, whatever your yoga level or your physical condition is. You sign up to treat yourself. You decide to take care of you and only you for a few days. Sometimes, mothers tell me : « I dream to come, I need it, but I can't because of the children… » For a woman, it's hard to accept to take time for herself and to leave her family for a few days, but I incite them to be careful not to build psychological barriers because, sometimes, they don't venture to take care of them. When they come, they are rejuvenated at the end of the stay.
You often compare the retreats to rejuvenation. Could you explain ?
People are often amazed – and sometimes even shaken - of their physical and mental well-being after a retreat. You rest in an ideal and beautiful setting, without noise, you are aware of what you're eating, of silences around and in us, you explore new sensations, a way to breathe, to sleep better, to find out some kind of fexilbility and harmony with your body… Generally, you're not the same when you go back home. You become more conscious of yourself and the others, of what you eat, how you sleep, how you think…
Are the retreats only for people practicing yoga on a regular basis ?
Not at all ! For instance, next October, Hameau des Baux's retreat is open to everyone. However, as we're hiking, a minimum of physical condition is required but the interest of this program is for each one to respect its own rythm. The team is here for everyone. It's one of the key elements of our services, that are closely supervised. It's one of my tasks during the stays. Each one can progress and feel at its own rythm.There's no competition in yoga. The same posture can be done by everyone, but at a different pace wheter you're a yogi or a not very flexible beginner. Yogis know how to work with beginners. That's what's so inspiring in yoga. The acceptance and the idea that no one is losing its time, each one goes at its own pace, focused on its body. That's the same for meditation… In silence, some will go further than others, others can't stay still, but they all are in the same room.
How do you plan the days at Hameau ?
 You cannot picture how the schedule is busy during a retreat ! When you spend 4 days focusing on the present moment, exercising, doing yoga, walking, meditating and having healthy meals, time seems to stretch and the « holidays' » benefits are quadrupled. The baseline ? To wake up and go to sleep early. Then, you lose your habits. As, for instance, having a morning coffee or checking Instagram every two minutes. First, we begin to practice before breakfast. After, we focus on a good digestion. Our thoughts are oriented towards positive and energizing actions : you walk in conscienceness (sometimes you even learn how to walk because you took bad habits), you look on natural rythms linking your body to nature. Ther will also be philosophical happenings and deep massages. After 48 hours, your senses (smell, taste, sight, sensations…) will be heightened. It will enable you to reconsider some of our bad habits…
How do you pick out places ?
I spent my chilhood on African roads with my father, a photographer, and my adventurous mother ; my ambition has always been to meet new people and places. The first time I came to Hameau des Baux, I instantly thought that this unique site, at the same time a village and an hotel, surrounded by nature, would be the ideal place to host the journey's experiences offered by Les Merveilles. Immediately the team has welcomed this project because they have a creative fibre and they work with the seasons, to keep on moving and to always offer new experiences to their guests.
Are we group living during a retreat ?
We are a close-knit group and we live each retreat's day together. There is no partition between Les Merveilles' team and the clients. It is very important in our philosophy. The group's good energy is essential, thanks to the professionalism and the generosity of the team and also to each person's responsiveness. If someone doesn't want to talk during a meal, who cares ? The idea is for everyone to feel free, fully free. Happiness starts there. Even if it's only ephemeral. For this first collaboration with Hameau des Baux, in the privatised mas for 14 people, I think we're going to have a wonderful time. There's still a few available places… I would advise you not to wait too long to sign up.
"Walking in conscience", our energy retreat, returns each year.