In this exhibition, Florence Burt Riley is showcasing « The field of possibilities or the oxymoron painting », her newest creations swinging between severity and levity, darkness and light, offering us almost monochrome  paintings or some with an explosion of colours and shapes.
She proceeds by successive glidings, as an answer to a near monomaniacal tendency for series. The gesture is spontaneous and the dynamic is  expressive.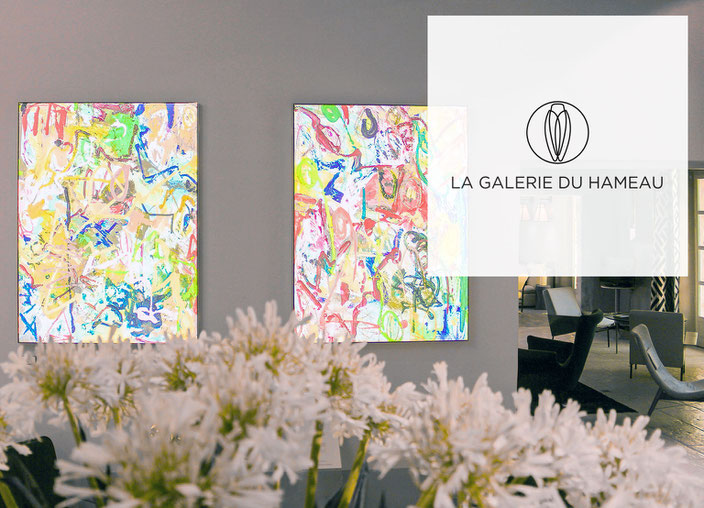 Spread out in many living areas of Hameau, the unusual, baroque or poetic work by Florence Riley is exploring an unsettling universe, at the same time  formal and unrestrained, channeled and flamboyant. And it's not by chance, because chance  is here too as a necessity, looking for « a different, more crucial, intensity affecting ancient emotional areas, as ancient as mankind or the beauty of savagery ».
Invariably, ovoid shapes (cells, neurons, zeros ?) and a vertical frame, by columns allowing the flow (air, water, holes, the infinite ?), in other words a binding structure leading to an overflow and near excessive freedom, in a kind of hubris. Gouache, acrylic, pastel, invented colours at times, combining overlays, faint cross-fadings or thrown as if fractured in a imbroglio, a fleshy or eccentric firework between solace, tension, fusion. In other words, an area of freedom claimed  as  « The field of possibilities or the oxymoron painting » drawing its power from, its energy, its harmony from opposing forces, in a kind of joyful stimulation allowing to relish on the fullness of the moment and to try to make it last.
The viewer has to slowly tame the paintings, slipping on their surface, accepting them in a non-judgmental way, touching them with the eyes, without distance, without their perception being cloaked by fear. Daring to lose yourself, to run back and forth, to think outside the box for a, sometimes abyssa. 
Visit the Bastide of Hameau de Baux until 3 January 2018 to discover this exhibition and sale.